8th Grade Information
Senior Dues and Updates 2023
Dear Parents/Guardians of the Class of 2023:
It's hard to believe it was three years ago that your child began the intermediate school experience at The Police Officer Rocco Laurie Intermediate School. This June, we will have approximately 550 students who graduate and go on to high school. Our graduation ceremony this year is scheduled for Monday, June 26, 2023 at 9:00 a.m. Graduation will be held at Wagner College, 1 Campus Rd, Staten Island, NY 10301, in the gymnasium.
There are certain expenses that are incurred by the graduating class that cannot be covered by the school. It is customary that these expenses are the responsibility of the graduates and their families. We are therefore informing you that senior dues this year will be $105.00 per graduate. Listed below you will find the items that are covered by the senior dues:
Rental of Wagner College facilities on Monday, June 26, 2023

Diploma and diploma case

Graduation cap and gown (to be kept by graduate)

The Class of 2023 yearbook (hardcover edition with color pages)

Senior Class t-shirt

Senior digital video download

2 guest tickets per student to attend the graduation ceremony (the graduate does not need a ticket)
We ask that all payments for Senior dues are made via OPEROO. If you have any issues with OPEROO, please contact GRocco@schools.nyc.gov for assistance. NO CASH PAYMENTS WILL BE ACCEPTED. Payment will be accepted January 30, 2023 through May 8, 2023. If you have any questions regarding the dues, or may be experiencing a hardship with payment, please feel free to email DMovsesian@schools.nyc.gov for assistance and guidance on this matter.
Please Note:
None of our activities can be successful without your cooperation. PAYMENT OF SENIOR DUES IS NOT A GUARANTEE OF GRADUATION. ONLY GOOD ACADEMIC STANDING, POSITIVE BEHAVIOR AND BEING A PRODUCTIVE MEMBER OF OUR SCHOOL COMMUNITY WHILE MEETING THE NYC DEPARTMENT OF EDUCATION GRADUATION REQUIREMENTS CAN ENSURE YOUR PLACE AT GRADUATION.
Please be aware that any 8th grade student who does not abide by the Department Of Education Discipline Code may be excluded from the graduation ceremony and/or other senior activities so long as the parents/guardians have been notified in advance. This notice serves that purpose. Please understand senior events are a privilege and not a right. The Senior Dance and Senior Trip will be by invitation only. These events are to celebrate those students who have worked hard and maintain our core values of being #BulldogSTRONG in our IS 72 community on a daily basis.
Kindly review the following important dates:
Spring Musical : "Matilda"- April 4,2023
NYC ELA exam - day 1 April 19, 2023
NYC ELA exam - day 2 April 20, 2023
NYC Math exam - day 1 May 2, 2023
NYC Math exam - day 2 May 3, 2023
NYSESLAT (specific students) May 15,16 and 17
Arista Ceremony- May 17, 2023
Laurie's Leaders Ceremony- May 17,2023
8th Grade Science practical lab exam(every class will receive a testing date) May 23- 26, 2023
Spring Performing Arts Showcase- May 31, 2023
*Honors classes only US History and Government Regents- 9:15am June 1, 2023
8th Grade Science written exam- June 5, 2023
8th Grade Awards Night *Invitation Only*- June 8,2023
*INVITATION ONLY* 8th Grade Dance 6-10pm at Hilton Garden Inn- June 13, 2023
*Honors classes only Algebra Regents- 11:00am June 15, 2023
*Honors classes only Earth Science Regents- 9:15am June 16, 2023
Spanish Proficiency Exam- 9:15am June 20, 2023
*INVITATION ONLY* Senior Trip- June 21, 2023
Bye Bye Bulldog Yearbook signing- June 23, 2023
Class of 2023 Graduation Ceremony 9am Wagner College- June 26, 2023
Last Day of School- Diploma and report card distribution- June 27, 2023
Throughout our years together, your cooperation, support and understanding have been appreciated. We feel confident that our final year together will be with the same spirit of unity. If you have any questions regarding the information in this bulletin, please contact the 8th grade Assistant Principal (Ms. Movsesian) at DMovsesian@schools.nyc.gov .
Sincerely,
Danielle Movsesian
8th Grade Assistant Principal
2023 YEARBOOK BOOSTER ADS
Dear Families and Graduates of the Class of 2023:
One of the opportunities to celebrate your child's graduation from I.S. 72 is via a booster in your child's yearbook! If you are interested in placing a booster in the yearbook, please see the information below.
Yearbook Boosters
We are now collecting BOOSTERS for our 8th grade yearbook. Parents, grandparents, aunts, uncles, guardians, siblings, friends, teachers, and administrators use boosters to send short, positive messages which are published in the yearbook. Students always enjoy finding a message written especially for them. Boosters can be no longer than 150 characters (including punctuation, symbols, and spaces). Note: There is no need to include the graduate's name since the name will appear above the booster message(s). Each family can purchase an unlimited amount of boosters for their child. Each booster message will cost $20.00 per Booster, payable via Operoo. If your family would like to submit more than 1 booster, please ensure you make the appropriate payment. Boosters are due by January 13, 2022.
What does a Booster look like ?
Please see several samples below of what a booster message may look like :
Jane Doe
Congratulations Jane! Keep your cool imagination and creativity. Have fun in High School
Love Mike, Ali, Grandma and Grandpa
John Smith
From the time you were born, we knew you would be special. Everyday you are proving us right. Always believe in yourself and reach for the stars. We love you, Mom & Dad
How do I pay for and submit my booster message?
1- Please ensure you make your $20.00 payment fee per booster message on OPEROO. You can find this payment form in your FORMS LIBRARY (If there are any issues with Operoo, please contact Mr. Rocco at GRocco@schools.nyc.gov)
2- Once payment is made, please click on the link below and fill out the information in the google form for each booster you are submitting.
BOOSTER FORM https://forms.gle/uHkPLccqyiGiPZ6i8
If you have any questions please feel free to reach out to Ms. Movsesian @ DMovsesian@schools.nyc.gov or Ms. Treglia, Senior Coordinator @ jtregli@schools.nyc.gov
Thank you,
Ms. Movsesian, 8th Grade Assistant Principal
Ms. Treglia, 8th Grade Senior Coordinator
#BulldogSTRONG
Tottenville ASD NEST Virtual Open House
Yearbook Baby Pictures 2022- 2023
Dear Families and Graduates of the Class of 2023:
We are looking forward to many exciting events for this year's 8th grade graduating class. We are committed to celebrating and commemorating all of the students' accomplishments. In order to achieve this, we are counting on your partnership to meet all deadlines. This will help to ensure that all graduates are recognized and represented in our senior events and yearbook.
Please note all communication and payment opportunities will be via OPEROO. Please ensure you are checking your Operoo accounts daily.
This year's graduation is scheduled for Monday June 26, 2022 at 9:00 a.m. at Wagner College. In January 2023, 8th grade families will be receiving a timeline of dates for senior events as well as the senior dues letter. Please note that participation in all senior events and activities is contingent upon behavior and overall academic standing. Factors that influence a child's ability to attend senior events include: attendance, lateness, class performance, behavior, effort, attitude, ability to follow directions and overall grades. Attending senior activities is a privilege that is earned and as such students will be invited to events based on the above mentioned criteria.
BABY PICTURES
Starting Monday, December 5, 2022 thru Friday, December 23, 2022, all 1st period teachers will be collecting baby pictures for the yearbook. Please adhere to the following criteria when submitting a baby picture:
1 baby picture per student (can range from 6 months of age - 2 years of age) The photo should only be of the student, NO ONE else should be in the photo.

If the student is a twin or sibling, each student should submit their own photo. Siblings and twins should not submit a group shot.

The photo should be no larger than a 5x7 size

The photo must be brought in and submitted to the period 1 teacher. Please note that photos WILL NOT BE RETURNED TO THE FAMILY. We recommend making a color copy of the photo and handing in the copy.

On the back of the photo the student's first name, last name and class number should be clearly printed. If it is not labeled, the photo will not be included in the yearbook.
**Last day for baby photo submissions is December 23, 2022. No pictures can be accepted after this date.**
If you have any questions, please contact Ms. Treglia (Senior Coordinator) at jtregli@schools.nyc.gov.
Thank you,
Ms. Movsesian, 8th Grade Assistant Principal
Ms. Treglia, 8th Grade Senior Coordinator
#BulldogSTRONG
Yearbook Cover 2022- 2023
Attention 8th Grade Graduates Calling All Artists!!!
Each year our yearbook cover is a representation of the graduating class. We are asking the class of 2023 to design this year's cover. Having a student design the yearbook cover is an honor as well as a true testament to being a Bulldog.
When designing the yearbook cover please be sure to follow the guidelines/requirements below. Please also take a look at some past examples of the yearbook for reference.
Guidelines/Requirements:
The design must be on a regular sized piece of white computer paper (8 ½ by 11)

Needs to be clear, should take up the entire sheet of paper

Should be colorful and vibrant
Your artwork must include the following:
The Police Officer Rocco Laurie Intermediate School 72

Class of 2023

School mascot ( bulldog)

School motto: Respect, Loyalty , Service

#BULLDOGSTRONG

Use one of the theme listed below to direct your cover design:
Class of 2023 the real MVP's #UNSTOPPABLE
Be creative and have fun creating this . Artwork can be designed using traditional paper and drawing techniques or can be done on the computer. Please ensure your name is included in your artwork.
Once you have completed the artwork, please email Ms. Movsesian (dmovsesian@schools.nyc.gov) and Ms. Treglia (jtregli@schools.nyc.gov) with your submission. Please keep all original artwork in case we need it.
Design is due no later than December 23, 2022 .
College of Staten Island H.S. Open house
High School Update Letter #2
Dear 8th Grade Families,
Please see the attached flyer on information regarding High School applications. If you have any questions or concerns please feel free to contact our 8th Grade Guidance Team.
Curtis High School Information Night
8th Grade Update for High School Applications
Dear 8th Grade Students and Families,
When completing your High School application, please use the High School directory on MySchools to assist you in choosing an appropriate program. In order for us to better assist you, please submit the completed application on or before November 28, 2022. The final deadline is December 1, 2022; however, submitting the application early gives us time to make any necessary changes. It is mandatory that this application is submitted. If it is not submitted, you will forgo the opportunity to make a choice and a match will be chosen for you by the Office of High School Enrollment.
The Twelve Choices:
You have up to twelve choices of programs. The twelve choices DO NOT include any of the eight Specialized High Schools or LaGuardia High School. If you registered for the SHSAT or a LaGuardia audition it is automatically entered on your application.
Your child will be matched to only ONE of the twelve choices on their application. Rank the programs in order of preference. Please consider travel time and distance for each of your choices. If your child is planning to audition for schools or programs in other boroughs you should be willing to accept the school if he/she is matched to it. Do not list any program/school that you are not willing to accept.
All high school audition programs (including LaGuardia H.S.) will accept virtual auditions via the "Additional Materials" section in Myschools.
Tips for Uploading Additional Materials in MySchools:
File Name: Please make sure that the file name does not have special characters like pound signs, hashtags, hyphens, underscore, etc. (#,-,/,_). You will receive an "upload failed" error message if the file contains special characters.

Please attempt multiple browsers if one is not working. We recommend Google Chrome for the best results.

Please attempt uploads on a laptop instead of a mobile device.

For large videos, you can use this website to compress large files
If the file was made as a Google doc or SharePoint file, please download as a pdf or Word file.

Do not submit zip files.

Max file size: 500MB per file.

Please be patient with uploads. Do not submit multiple times or multiple files. Submit one file at a time and allow enough time for each file to upload. Submitting multiple times may cause spinning gears to appear and could interfere with uploads. You may need to refresh your browser to view the uploaded materials or close out of your school portal and log back in to view the uploaded additional materials.
If after uploading, you can download an uploaded document and/or view an uploaded video on the students' biopage, then the upload is successful. If not, check the files based on the steps above and attempt to resubmit after closing and reopening MySchools.
Resources available NOW!
As always, if there are any additional questions, please feel free to contact Ms. Iburg at MIburg@schools.nyc.gov or Ms. Conanan at AConanan2@schools.nyc.gov.
#BulldogSTRONG,
Alexandra Conanan, 8th Grade Guidance Counselor
Morgan Iburg, Coordinator of Student Activities
Gramercy Arts H.S. Virtual Open House and Auditions
New Dorp High School Open House
Manhattan Arts Consortium
High School Admissions
Tottenville HS Open House
Regis High School Open Houses
55 EAST 84TH STREET | NEW YORK, NY 10028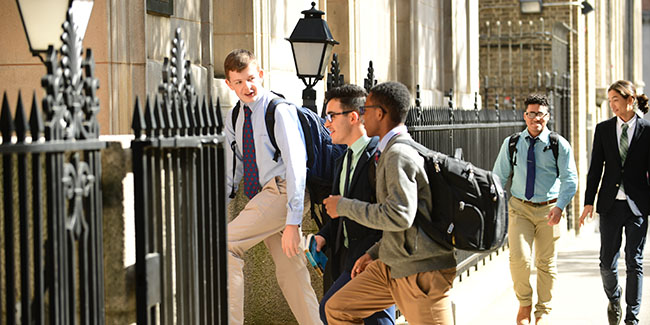 Regis High School

of Manhattan

an all-scholarship Jesuit school for talented and gifted Catholic boys

invites students and their parents to its

Open Houses

Bronx, Manhattan, & Westchester Residents

All Other Area Residents
McCown HS Information Night
Dear 8th Grade Families,
Please see the attached flyer on information regarding High School information for families coming up in October. If you have any questions or concerns please feel free to contact our 8th Grade Guidance Team.
Thank you and have a great day.
#BuldogSTRONG,
Ms.Iburg - COSA
Ms.Conanan-Guidance
Catholic High School Open House
Dear 8th Grade Families,
Please see the attached letter regarding Open House dates for Catholic High Schools coming up in October. If you have any questions or concerns please feel free to contact our 8th Grade Guidance Team.
#BuldogSTRONG,
Ms.Iburg - COSA
Ms.Conanan-Guidance
Welcome Letter
Dear 8th Grade Families,
Welcome to the Class of 2023! I am Ms. Iburg and along with the Assistant Principal, Ms. Movsesian we will be working with you to help guide you through the High School Admissions process. Each child will be receiving a mailed letter from the High School admissions office to your home with a creation code in order to create your Myschools account. This letter is forthcoming. Please begin to become familiar with the High School application process. The following is important High School information so please take the time to carefully read through all categories. If you have any further questions please email Ms.Iburg at Miburg@schools.nyc.gov. Every email sent to Ms.Iburg should include your childs' full name and class in the subject line.
*Ms.Conanan will be available for additional support regarding the High School Application process.
SHSAT Update
Today, we have updates for students interested in applying to any of the eight testing Specialized High Schools. Students apply to these schools by registering for and then taking the Specialized High Schools Admissions Test (SHSAT). Offers are made based on each student's SHSAT score, their school preferences, and seat availability. Here's what families can do, and when:
● Prepare: Detailed information, sample tests, and information about testing accommodations are available on our website.
● Register: Registration for the SHSAT will open in mid-October 2022. Specific registration dates and details (including information about requesting testing accommodations) are coming soon!
● Test: All registered students will take the SHSAT in December 2022. When specific test dates and other information become available, we will send updates.
TACHS TEST
If your child is planning to attend a Catholic High School, he/she must take the TACHS test for admission to a Catholic High School. The test date is November 2 2022. You must register online @www.tachsinfo.com by October 27, 2022. The cost for this exam is $65.00. If your child notified Ms. Iburg that they will be taking the test in order to account for their attendance on their testing day. Enter Your High School choices on tachsinfo.com. Your choices may be revised until November 05. Failure to complete this information prior to November 05, will result in scores being unavailable to your high school choices.
If your child gets extended time, fill out an Eligibility Form for students needing extended testing time and send in the documentation to your aligned diocese along with a copy of the IEP, IESP, or 504 . You must mail these forms to the Archdiocese of New York by October 7, 2022. Please fill out an applicant record from tachsinfo.com and return to your advisory teacher in an envelope with ATTN: Ms.Iburg on the front.
Resources available NOW! ● Visit schools.nyc.gov/High and schools.nyc.gov/SHS to get the latest information and watch our video series to learn how to participate in high school admissions. For in-depth information, read last year's digital High School and Specialized High Schools Admissions Guide. Please note that some resources and information will be updated this fall to reflect any changes for 2023 admissions. ● Start exploring high school program options in the MySchools.nyc high school directory. You don't need to log in or create an account to use the online directory! ● Sign up for email updates on High School Admissions: schools.nyc.gov/SignUp.
Please continue to check schools.nyc.gov/High and schools.nyc.gov/SHS for updates, and encourage families to do the same.
#BuldogSTRONG,
Ms.Iburg - COSA
Ms.Movsesian- Assistant Principal
Ms.Conanan-Guidance